We prepared a contest with our friends from Subsocial. Pick one of the 10,000 Spacers and buy a space sword or blaster to go with it. Or try your luck in our raffle and get 4 Spacers pod NFTs with random equipment and TradeCrypto patch.

Fasten your seatbelts. A ticket to a one-of-a-lifetime journey to space with Spacers NFT Collection.
PRIZES
Prizes will be awarded to subscribers who fulfill all conditions of the raffle. Each of the four lucky winners will receive a Spacer pod NFT with a TradeCrypto patch.
The contest begins on 19th of December at 10 AM GMT+2 and will finish on 26th of December at 6 PM GMT+2.
Spacers NFT collection
The Spacers collection consists of two main categories: Spacers (basic NFT) and equipment items.

In total, 10,000 Spacers will be released. Each capsule contains one Spacer.

There are four Spacer rarities, from the smallest to the largest: Marine, Officer, Captain, and Admiral. They will have a different number of slots depending on their rarity. Marines have 6 equipment slots, officers – 7, captains – 8, and admirals – 9. This means that certain items can only be equipped with Spacers of higher rarity.
An element of wonder. You don't know what your spacer will look like before the sale. You get a Spacer Pod of a certain rarity (depending on what rank of Pod you choose). After the sale, the Pod opens to reveal the Spacer with a unique body and an unknown combination of equipment.
Not just any NFT collection
What would happen if democracy ceased to exist? Subsocial has found a way to answer that question with its new Spacers NFT collection. Fueled by sci-fi, exceptional NFT technology, great graphics, and the power of speech and self-governance, Spacers will emerge to save the bleak future.
The year is 2076. Social News United, the last and most successful of the megacorporations, rules the world. Democracy has long since been terminated by the Thought Police. The masses have become like sheep, their thoughts dictated by the will of Social News United. Any and all free speakers vanish in the night.
Until one fateful day, when The Spacer Fleet showed up…
The Galactic Council has sent them as champions of free speech to liberate the minds of humanity.
What is so special about Spacers NFTs?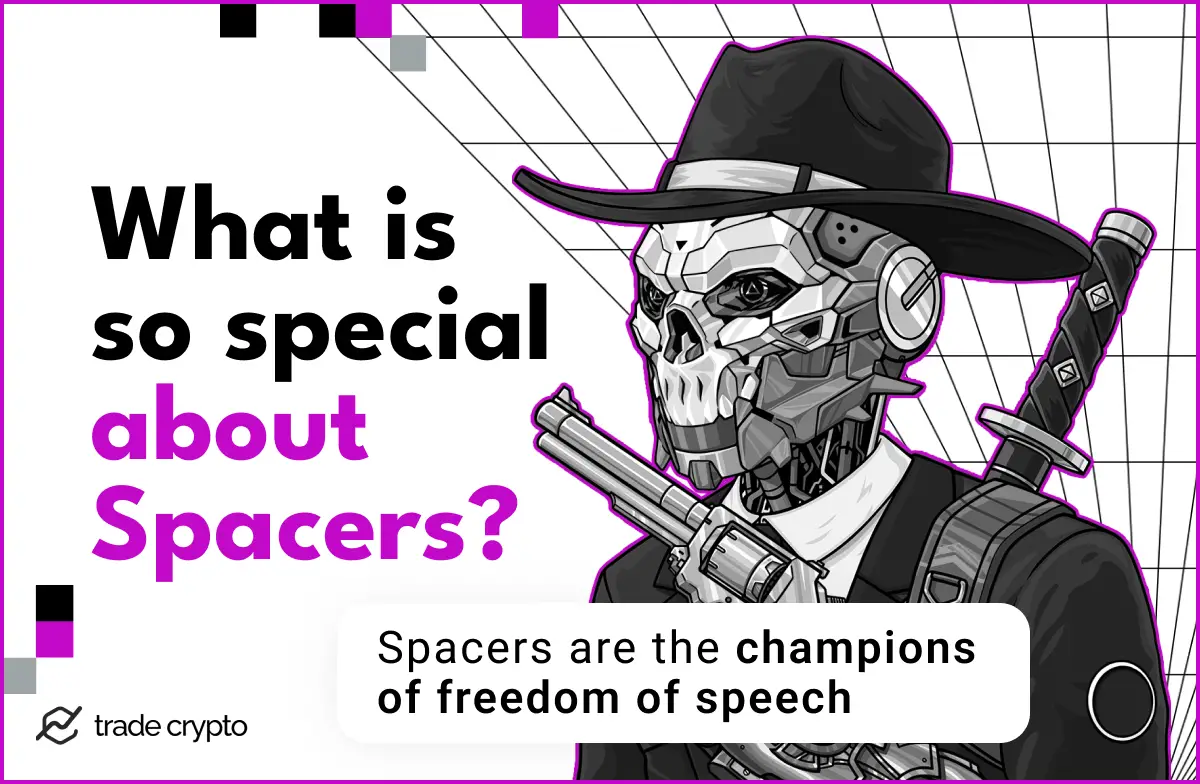 Spacers are the champions of freedom of speech. Developed by the Subsocial team in collaboration with the RMRK team, these robots from outer space have futuristic capabilities enabled by the RMRK 2.0 NFT standard. This RMRK 2.0 NFT standard distinguishes the spacers and allows you to modify the characteristics of the base NFT by buying and selling equipment that are also NFTs.
That said, it's fun to change your NFT, but it's not just PFP or innovative digital artwork. They're called the champions of free speech because with NFT, you acquire a place among like-minded people. You also have a say in participating and guiding the community's desires.
How to buy Spacer pod?
Spacer Pods are sold on a page built by the Subsocial team, which is governed by the RMRK 2.0 NFT standard. NFT purchase is made using Moonriver tokens (MOVR). In order to buy a spacer pod, you just need to connect the Metamask extension or use the app on your phone.

Shortly after the end of the sale, users who bought a Spacer pod need to open it to acquire a Spacers NFT with a random combination of items of different rarities.

Individual traits and equipment will be randomized depending on the rarity of the Spacer. Besides, every piece of equipment has a different set of rarities too, so there will be a surprise waiting for you when you open it.
Utility
Spacers NFT collection is rich in utility to provide even more useful features for Subsocial users.
Capsules that are not sold will mostly be used to fund the treasury. Owners of Spacers will have the ability to shape the treasury spendings through closed channels.
What is Subsocial?

Subsocial is a Layer 1 chain in the Kusama ecosystem, running on parachain designed specifically for social networking. With a set of tools, such as SDK created by the Subsocial team, developers can easily create different platforms with ready-to-go pallets of social interactions such as comments, likes and more, all held on the decentralized Subsocial blockchain.
RMRK NFTs are built using the RMRK 2.0 NFT standard, which solves the problems of traditional NFTs. It is now possible to create NFTs as video game characters that are able to equip and remove items, store them in inventory, and buy and sell this equipment, which itself is also in the form of NFTs.
This allows users to trade different items to create their perfect Spacer and creates a whole market not only of Spacers, but also of a long list of equipment of different rarities.
These NFTs are also eternally liquid and compatible with future versions, as they can be equipped with unrelated future projects that are not even planned yet. So the team will be able to create more items both independently and in collaboration with other projects and artists.
Goals and Vision
With this in mind we started our long-term collaboration, making close contacts with many projects, which you can see a full list of here.

These partner codes can be entered on the Spacer Pod sales page when buying.
You can find more info about partner patches in our documentation.
How do I make sure I did everything right?
If you go to Crew3 and have correctly fulfilled all the conditions, you will be notified of the completion of the quest. In addition, you can double-check on your social networks to subscribe to those resources that are marked in the conditions.
How will I know if I'm winning?
The winners will be announced during the first week of January(?) (and properly thanked for project support).
Subscribe to
Crypto Ping Pong Digest
Trash style news. You will definitely like