USDC and USDT difference
This article will analyze two leading tokens dominating the stablecoin market: Tether (USDT) and USD Coin (USDC). Understanding how these two tokens work can be helpful when deciding which is best suited for your investment or trading needs.
What are stablecoins?
No matter how advanced you are as a trader, the cryptocurrency market is highly volatile, meaning prices fluctuate from top to bottom with incredible speed. Of the 10,000+ cryptocurrencies out there, from Bitcoin to Dogecoin, they all carry the same level of risk. Good thing that's not the case with stablecoins.
Stablecoin is a digital currency pegged to a fiat currency (a real asset) like the U.S. dollar. Stablecoins provide stability by backing the fiat currency at a 1:1 ratio and representing the tangible assets in a digital world. If you have 1 USDT, you have 1 USD. How to choose one? We focus on 2 top stablecoins on the market – USDT and USDC.
Read more: How to Trade Cryptocurrency: Investing in Cryptocurrency for Beginners

What is USDT?
Tether, or USDT, is the first stablecoin created in 2014 by Hong Kong-based Tether Limited. As the first, it had a significant first-mover advantage. In 2022, it not only dominates stablecoins in market capitalization but is also the #3 cryptocurrency of all cryptocurrencies, just behind Bitcoin and Ether.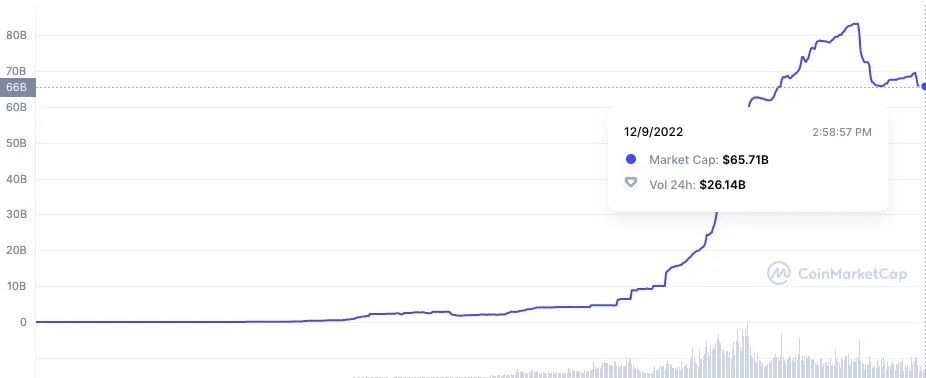 Tether was designed to address two fundamental shortcomings of existing cryptocurrencies: excessive volatility and fiat-to-cryptocurrency convertibility. Tether intended to address these issues by creating a cryptocurrency fully backed 1:1 by bank deposits in U.S. dollars.

This USD-backed stablecoin exists on several blockchain networks, such as Ethereum, Algorand, EOS, Solana, Polygon, Tron, and others. Tether can connect to all these blockchains to facilitate the issuance and redemption of USDT.
How to buy USDT
All major crypto exchanges, such as Coinbase, Binance, Crypto.com, and Kraken offer tether. Therefore, buying USDT is as simple as setting up an account with one of these exchanges and connecting it to your digital wallet.
After signing up for an account with the exchange of your choice, you select USDT from the offered digital coins and buy it with your credit or debit card. You can also use other cryptocurrencies to buy Tether if your chosen exchange accepts your cryptocurrencies.
Read more: How and where to buy Tether (USDT) – Full Tutorial
For security reasons, we recommend you always choose more well-known coin exchanges (like the ones we have listed above).
What is USDC?
USDC is a stablecoin created in 2018 by Coinbase and Circle. Like USDT or any other token backed by USD, its price remains pegged 1:1. The coin is managed according to technical and financial standards. This means that for every USDC created, $1 is held in reserve in the form of U.S. dollars and cash equivalents.
The project was born out of the realization that the crypto market needs a stablecoin backed by fiat funds with solid governance and transparency. The creators of USDC aim to achieve this by publishing details of their 100% fiat token reserves every month. This dollar pegger stablecoin exists on several blockchain networks such as Ethereum, Algorand, EOS, Solana, Polygon, Tron, and others.
In 2022, USD Coin (USD) held its #2 in stablecoin market capitalization.
How to buy USDC?
USDC is as widespread on major crypto exchanges as Tether. USDC is available on most major exchanges, where you can purchase with your credit or debit card or via Google Pay. Like USDT, USD Coin can be sent and received by any wallet or exchange.

You can use major exchanges or wallets to purchase USDC or convert other cryptocurrencies into USDC if you already have a crypto account/wallet. Trusted cryptocurrency exchanges are Coinbase, Binance, Kraken, and Crypto.com.
USDT and USDC side by side
USDT and USDC interest earning
USDC and USDT are popular options to earn on interest due to their low volatility. Crypto lending platforms offer services comparable to those of a bank account, and making an income by lending your tokens on several platforms is one way to leverage your stablecoins. You can earn a higher APY (annual percentage yield) by integrating stablecoins into your investment portfolio.
Although interest rates fluctuate, you will almost always make more money lending your USDT or USDC than holding your dollars in a typical savings account. Also, unlike a traditional bank, you can choose where you invest your money without the associated high fees and frustrating intermediaries.
Final verdict on USDC vs USDT
The choice between these two leading stablecoins depends on a few factors. USDC is undoubtedly the top choice if you want to trade digital assets in bulk and use a highly compliant stablecoin backed by various regulations. USDT, on the other hand, is probably your stablecoin of choice if you need high liquidity and broad market acceptance.
USDT is the most traded cryptocurrency, but its parent company Tether has been slow to cooperate with audits and investigations in the past. Although investing in USDT could yield significant profits, there have long been doubts about the stability of Tether's backing of the token.
USDC, on the other hand, has been meticulously preparing for any emerging government regulation of stablecoins. Users can buy and lend USD Coin comfortably and with a solid profit, knowing that the company's compliance and regular audits will protect them.
Ultimately, it's up to you to research and decide what best suits your digital wallet – as with many things in the crypto world.
Subscribe to
Crypto Ping Pong Digest
Trash style news. You will definitely like