Tether is one of the best ways to enter the world of cryptocurrencies. It has been around since 2014, created by Bitcoin investor Brock Pierce, entrepreneur Reeve Collins, and software developer Craig Sellers. Tether's current market cap is over $70 billion.
Tether (USDT) buying and storing guide
Tether is one of the best ways to enter the world of cryptocurrencies. This article is designed to be your step-by-step guide on how to buy Tether, where to buy it, and how to store it safely and conveniently.
What is Tether (USDT) cryptocurrency
Tether, also known as USDT is the most popular cryptocurrency and the perfect choice for beginners and experts alike. Tether (USDT) is a stablecoin.
Stablecoin is a coin (token) that almost never changes course (only a penny) and is always approximately equal to one US dollar.
Tether works in several blockchain networks: Ethereum (ERC-20 token) and the Tron (TRC-20 token). Ethereum's transfer fees are excessive, while Tron's fee is always equal to 1 USDT (one crypto dollar). Therefore, the most popular method of handling Tether is always via the Tron network.
How to buy Tether (USDT) online and in-person
Tether is safer and easier to buy online than in-person.
To purchase USDT in-person, you have to:
Find a person willing to exchange cash or Western Union transfer for their Tether
Have in mind the following:
You will have to search for an individual trader on P2P Binance or Paxful exchanges
Trader's fee is built in the price, as traders ask from $1.08 to $1.55 or more per Tether
It is not a safe option, as there is up to 30 days delay and you rely on the honesty of a trader to send you Tether coins after receiving your cash
To purchase USDT online you will need:
To decide on the crypto exchange of your choice (Binance, Coinbase, Kucoin, Crypto.com)
To register an account at your chosen exchange, verify your mail address via code or other methods
Access to funds on your credit card, or on alternative payment services permitted by the exchange (some exchanges accept ApplePay, PayPal, simplex, banxa, Transferwise, or other third-party payment services)
Wallet on your preferred blockchain network (Ethereum, Tron, Solana, etc.) to store your Tether.
If this seems like too much to take in, don't worry, we will cover the detailed step-by-step instructions in the next sections, including how to open your wallet and how to buy your first Tether coin.
How to buy Tether (USDT) via Binance
Binance is the biggest cryptocurrency exchange by volume of trade. They are running their own blockchain network, Binance Smart Chain with their own Binance Coin (BNB). If you plan to buy your first Tether and make your first steps into the world of crypto trading, Binance is one of the safest places to do it.
Step 1 Register at Binance
Create a free account by visiting Binance.com:
Go to Binance.com
Click on [Register Now]
Select country of residence
Click on [Confirm]
Decide if you want to register by e-mail or mobile
Step 2 Account Verification
Enter your e-mail address or mobile phone number
Enter your password
Click on [Create Account]
A puzzle will pop on the screen as a simple verification
6-digit verification code will be sent to your e-mail or mobile
Enter the code
Step 3 Identity Verification
Binance will remind you to complete the verification by displaying a bar on top of their website content, in the top right corner you will spot the button [Verify].
Or
You can access [User Center], represented by an icon in the top right corner, on the top of the Binance website's menu bar. From the drop-down menu select [Identification].
Binance has three levels of identification, Verified, Verified Plus, and Enterprise Verification. Only the first level is mandatory. Other levels are there to increase your deposit and withdrawal limits and are optional.
For the Personal Verification process you will need:
Your personal information
Government-issued document (ID, Passport, Driver's license)
Selfie for facial recognition
To wait up to 10 days for the review process to complete
When you are ready, click [Start Now]
A form will pop up, asking for your nationality, first and last name, middle name, and date of birth.
The next part of the form will ask you for your residential address, postal code, and city.
Enter the country of issue, then decide upon the document for identity check:
Government-issued ID
Passport
Driver's license
Click [Continue]
Take a photo of your preferred document. Make sure that:
The photo is not cropped
The photo is not blurred
The photo is not reflective
The photo is full color (no black and white accepted)
The file size is between 10 KB and 5MB in .jpg/.jpeg/.png format (check your phone's camera settings when in doubt)
You are doing this step from your mobile or that your computer has access to a webcam
Click on the bar with the camera icon
Retake photo if necessary
Click [Confirm]
The next step is to take a selfie. Again this part can be completed from your computer if you have a webcam or from your mobile phone.
Take a selfie making sure that:
It's a photo of yourself with a neutral expression
Make sure your whole face is visible, centered and your eyes not closed
Your photo is not cropped
Your features are not hidden or obscured (e.g no hats, filters, headgear)
The last step is facial recognition. The first prompt will be to open your Binance App and complete the facial recognition from there. However, if you are registering from a desktop or laptop PC with a webcam, you can switch to webcam recognition by clicking on the yellow icon representing the monitor in the bottom right corner of the form.
The whole process is a lot easier through a mobile browser or mobile app. Don't panic if the process results in a Verification Failed message. Try using other methods (mobile, PC, or app) and make sure that document and selfie photos are clear and visible.
Once you are verified, you can commence the buying process.
Step 4 Buy Tether via credit card
Although you can buy Tether with a bank deposit, third-party payment solutions, the easiest way to buy cryptocurrency is by credit card.
Go to the upper left corner of the screen and select [Buy Crypto], then [Credit Card].
In the upper part of the screen is the space to enter the sum and your preferred currency (USD, EUR). In the lower part of the form will be displayed how much cryptocurrency you will get. The default value is bitcoin (BTC).
Enter the sum in US dollars.
Click on [BTC] to get the list of cryptocurrencies.
Type USDT in the search bar above the listing.
Click on USDT.
Now you will see the amount of Tether coins you will receive.
Click [Continue].
Select [Add a new card].
Enter the card details.
Click [Buy].
Check the amounts of USD and Tether. If everything is to your liking, click [Confirm].
The crypto-funds are now in your Binance Spot Wallet!
Buying Tether via SEPA / Bank transfer
To buy Tether via bank transfer it is necessary to make a deposit in fiat currency. Make sure you have enough funds in your bank account. Since there is a 2 EUR fee for deposits, always make deposits greater than 2 EUR.
The name on the bank account must match the name registered to your Binance account. Therefore, DO NOT transfer funds from a joint account.
SWIFT is no longer supported. SEPA transfers don't work on weekends. Funds travel 1-3 business days.
Select [Bank transfer] from [Buy Crypto] or [Deposit Fiat] from your Binance wallet.
Enter the amount.
Make sure to enter the correct banking details.
Buying Tether via P2P
The P2P option connects individual users holding crypto to you. It's a marketplace, so sellers will offer crypto on their own terms. There is no guarantee that you will actually get your crypto because the exchange is not automated. Basically, you are making a payment to an individual. They promise to transfer crypto to you.
Select [P2P] option from the [Buy Crypto].
You will get the list of sellers. Note the number of orders and percentage of completion as indicators of the trader's reputation. Next is the listed price, purchase limits, as well as payment methods. Namely, since individual traders are offering their personal funds, the payments will be possible through a wide variety of payment processors.

In the example from the image above, one trader is offering to sell up to 400 USDT, at a price of 1 EUR per USDT, and they accept Western Union transfers.
This is quite a risky way to buy cryptocurrencies, including the Tether. The exchanges that support P2P trading usually issue warnings, since they don't guarantee the reputation of traders and call for caution against scammers.
Other crypto exchanges
The detailed guide covered buying USDT via Binance. The process is very similar for any other crypto exchange you want to use, as KuCoin, Kraken, CoinBase, FTX, and others all have [Buy Crypto] options, including credit card purchases (usually via 3rd party processors), bank transfers, and P2P options.

KuCoin's interface for buying crypto looks almost the same like that of Binance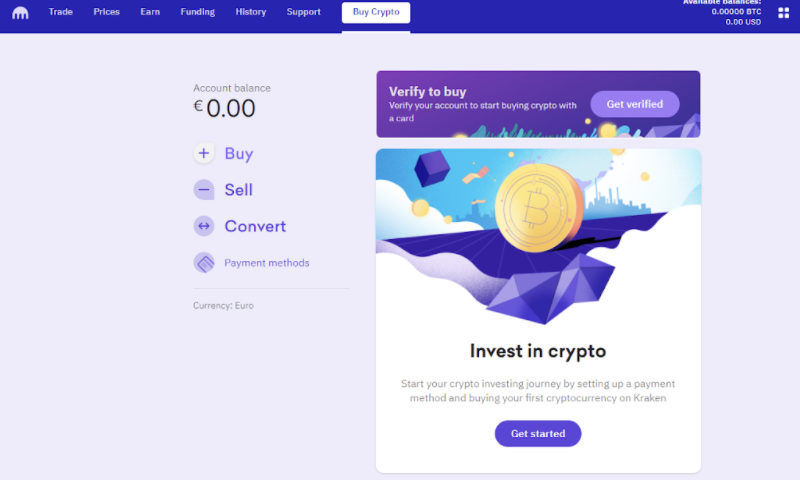 Kraken's interface is different, but it's very clear how to buy crypto
Adding your banking details is part of registration at CoinBase
With FTX buying crypto is done by depositing fiat funds first
Buying directly from wallets
Modern wallets often double as crypto service platforms. For example, Celsius started as a crypto savings account, but now is a wallet as well as an exchange and lending/borrowing platform. Crypterium is another free wallet that also allows you to earn interest on your crypto assets. Crypto.com offers various crypto services, like crypto credit, staking (explained below).
They will have their own identification procedures in place and once you are verified you will be able to buy Tether and store it directly in your wallet of choice.
Tether (USDT) wallet for digital currencies
Your Tether (USDT) coins are now in Binance's system, protected by the registration and verification you did before. This is called a hot wallet. Storage is safe and convenient. For increased safety, at expense of some convenience are cold wallets, also called hardware wallets.
Cold wallets look like USB stick devices and can be purchased online. They keep your coins safe much like a safe deposit box would. Not very convenient for trading or purchasing, but quite inaccessible to anyone but you.
If you want to store your USDT in a different wallet, you will need to send it from your Binance wallet to another wallet address. This requires knowledge of blockchain networks and involves additional fees. If you made a USDT purchase on Binance it is the safest and the most convenient to keep the funds and use them from there.
What is Tether (USDT) worth
The idea behind stablecoin such as Tether is that it will always have a fixed value. Considering that USDT is literarily tethered to the value of the US Dollar, it should always be worth $1. Fluctuations on the market do happen, but they are in the range of a few pennies above or below a dollar. The latest 24h low for USDT usually shows these minuscule changes, for example, $0.9984. The last year's highest USDT value was $1.03.
Tether's worth in other cryptocurrencies will change daily since they are highly volatile, while USDT remains stable.
How to use Tether (USDT) cryptocurrency
So now that you have learned how to buy Tether, you may wonder, what do to with it? You can, obviously hold onto it and use it as a store of value. The increasing number of merchants uses Tether, so you could pay for goods and services. Because of the high speed and low costs of transfer, Tether could be used for remittance, to send funds to friends or family.
Because it is faster to convert other cryptocurrencies into Tether than into hard cash and vice versa, Tether is a very popular medium for investors, traders. A sort of "your safe haven" in the volatile world of cryptocurrencies. So, you could use USDT to buy other coins or exchange them back to USDT if you feel that their value will diminish.
However, the most exciting and lucrative use of Tether is to earn more and make it part of your short or long-term investment plan.
By simply storing your Tether on a certain platform (a process called staking), you can earn more Tether coins. Interest rates are quite high, from 1.2% on Binance, typically between 6-12% on other platforms, or up to 20% on KuCoin platform.

For shorter, more lucrative, and more risky investments, you could move your Tether to a lending platform. Other users and projects borrow your USDT coins, and you get a percentage of fees they incur when trading. However, this is an advanced crypto-investment strategy that requires deeper knowledge and closer monitoring of your crypto-assets.
FAQ
Q: What is Tether (USDT) again?
A: Tether is the world's first stablecoin. It is a cryptocurrency that mimics the US Dollar, always worth 1$, thus connected, pegged, or tethered to the value of a dollar.
Q: Is Tether (USDT) a safe cryptocurrency?
A: Yes. It is considered one of the safest because its value never changes, with negligible fluctuations which measure in fractions of a penny. It is also safe to store and hold on to, which makes Tether very popular in the world of crypto-trading as intermediary currency between US dollars and other cryptocurrencies, such are Bitcoin, Ethereum, etc.
Q: What is the difference between ERC-20, TRC-20, and these other Tether variants I hear about?
A: Tether initially operated on the Omni blockchain network of Bitcoin. Ever since Tether has spread over the number of blockchains. The most popular networks for Tether are Ethereum (hence the ERC-20 token designation) and Tron (TRC-20 coin). But Tether can be stored on Solana, Algorand, HECO, xDAI, Polygon, and a number of other networks.
Q: Can I do Forex-style trading with USDT?
A: Yes. Since Tether (USDT) is always worth $1 you can exchange local currency into USDT, then cash out or exchange for other assets, once the local currency drops in value.
Q: Can I lose money on USDT?
A: Think of Tether (USDT) as of digital representation of your dollar in the world of crypto-trading. You can always use the money on transaction fees, or bad investments. But the value of Tether will not change, so if you hold onto it, use it for payments, or money transfers you should forever keep your money's worth.
Disclaimer: All information contained here should not, under any circumstances, be construed as financial advice, investment recommendation or an offer of, or solicitation for, any transactions in cryptocurrencies.